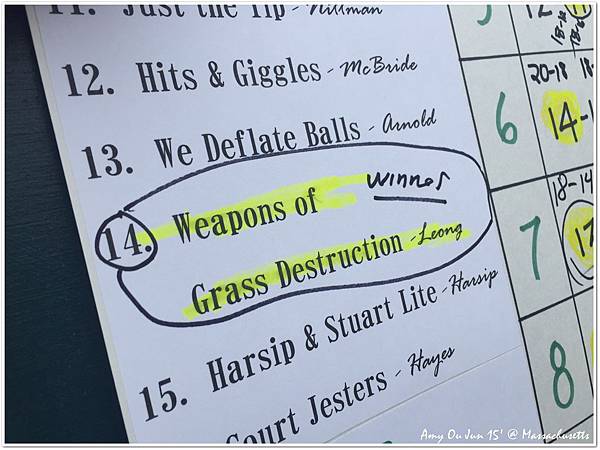 At the time of the events leading up to April 19, 1775, the town of Boxborough did not exist. What is now Boxborough was then the outlying districts of Harvard, Stow and Littleton. Rules set down by the Massachusetts Bay Colony stated that each town must have a minister and a meeting house. Town and religion being inseparable, the meeting house was not only the place of worship but also the seat of town government.
The farmers of this area found it difficult to get to worship services (a requirement) and other meetings in anyone of the three towns, and formed a "Sartain Society" in 1774 " in order to erect a meetinghouse for the publick worship of God." In January, 1775, they chose a moderator, Henry Cooledge, and a Committee, Bennet Wood of Littleton and Joseph Stone of Stow, to purchase the old Harvard meeting house, which was rebuilt on top of the hill where Middle Road and Hill Road meet. Silas Wetherbee gave three acres of land for the 'meatting house lot."
After many petitions to the General Court, the Boxborough District was formally accepted on February 25, 1783, in a proclamation signed by John Hancock, Governor, and Samuel Adams, President of the Senate.
以上資料來源: http://www.boxboroughminutemen.org/fifers/fifers.htm
一個和Boxborough小鎮有關的小歷史,和他們一年一度的小慶典。今年本大娘為了來打這一年一度的排球賽,頭一回參加這個慶典。
慶典一開始有個小小的遊行。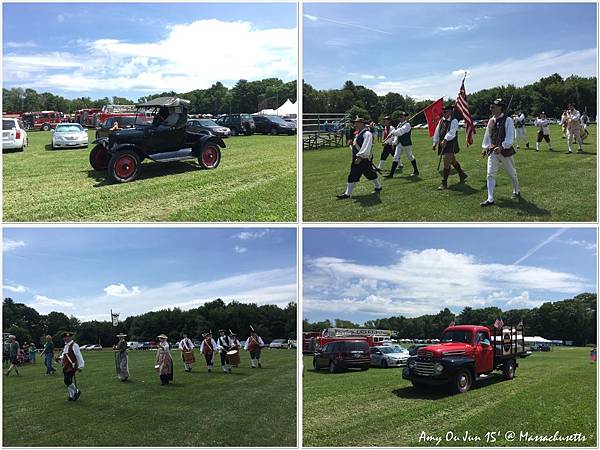 遊行結束後當然不能缺少的園遊會食物!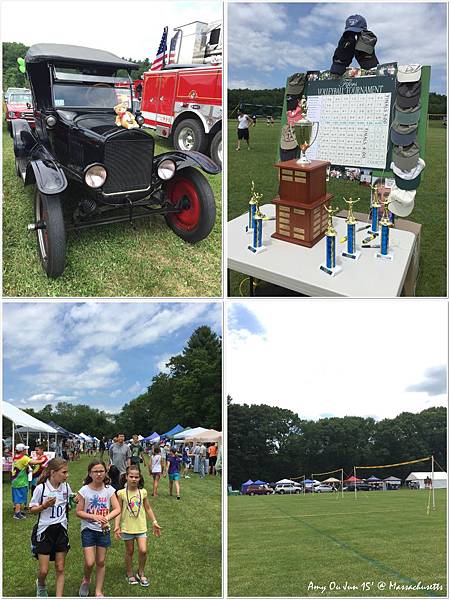 但當天整顆心全神貫注在比賽上啊!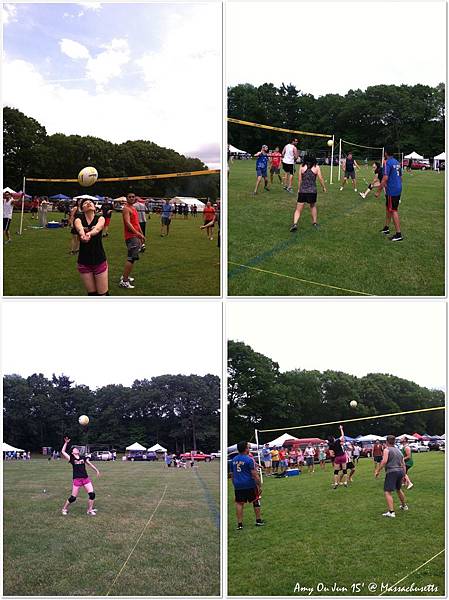 有著超強戰隊的Weapons of Grass Destruction當然只能拿下冠軍囉!(聳肩)
沒錯。。。本篇單純想炫耀本大娘這個矮子還是有機會拿運動項目的冠軍!