來到離開黃石的這一天。不逛一下紀念品店對不起自己。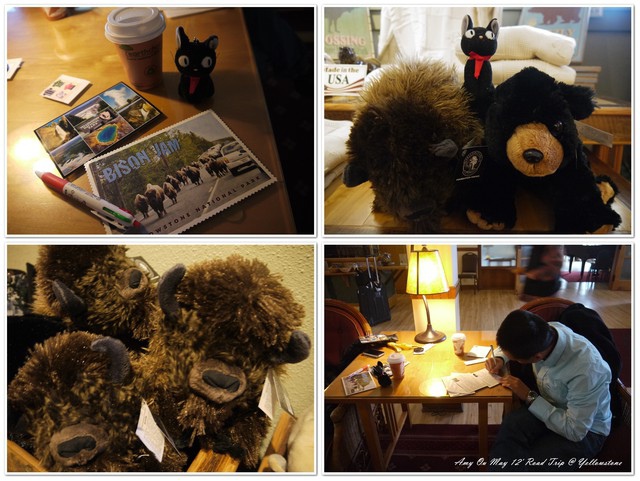 昨天睡到自然醒,爽了一天。今天馬上來一個大早起。除了早睡早起,生活習慣好到撞牆的謝博士之外,王太太和詹大仙都是一臉的大便。來喊聲一下!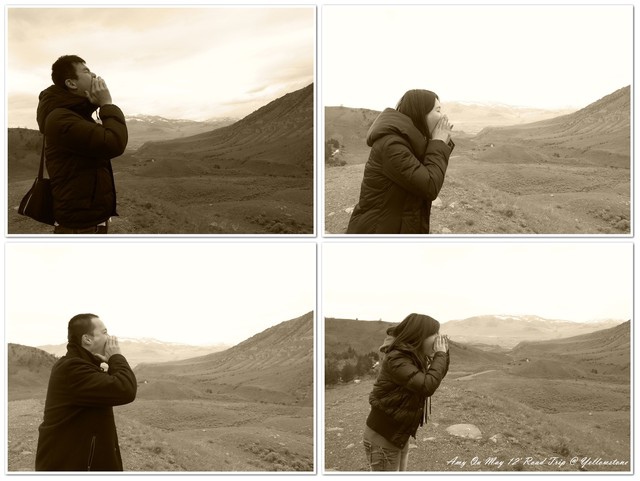 早起絕對是有它的價值。在山頂上吃早餐看風景,多正點!而且還遇到一個BISON家庭,闖進露營區。雖然爬山的過程,王太太和詹大仙還是一副沒睡醒的樣子。。。
今天主要的目標是西南邊的間歇泉。如果你拿了地圖,以下大概是幾個可能讓大家比較有興趣的點。(沒錯,一連串從黃石官網抓來的資料,本大娘就是這麼懶。。。但至少有用螢光筆劃一下重點。)
Norris Geyser Basin– 資料來源:黃石公園官網
Norris Geyser Basin is the hottest, oldest, and most dynamicof Yellowstone's thermal areas. The highest temperature yet recorded in anygeothermal area in Yellowstone was measured in a scientific drill hole atNorris: 459°F (237°C) just 1,087 feet (326 meters) below the surface! There arevery few thermal features at Norris under the boiling point (199°F at thiselevation). Norris shows evidence of having had thermal features for at least115,000 years. The features in the basin change daily, with frequentdisturbances from seismic activity and water fluctuations. The vast majority ofthe waters at Norris are acidic, including acid geysers which are very rare. Steamboat Geyser, the tallestgeyser in the world (300 to 400 feet) and Echinus Geyser (pH 3.5 or so) are the most popularfeatures. The basin consists of three areas: Porcelain Basin, Back Basin, andOne Hundred Springs Plain. Porcelain Basin is barren of trees and provides asensory experience in sound, color, and smell; a 3/4 mile dirt and boardwalktrail accesses this area. Back Basin is more heavily wooded with featuresscattered throughout the area; a 1.5 mile trail of boardwalk and dirt encirclesthis part of the basin. One Hundred Springs Plain is an off-trail section ofthe Norris Geyser Basin that is very acidic, hollow, and dangerous. Travel isdiscouraged without the guidance of knowledgeable staff members. The area wasnamed after Philetus W. Norris, the second superintendent of Yellowstone, whoprovided the first detailed information about the thermal features.
離開Norris的時候,滿車的人已經餓到不想講話,尤其是無法餓肚子的詹大仙,可以感覺他滿肚子的怨氣。偏偏本大娘臉皮很厚,裝瘋賣傻的功力一流,所以完全忽視他的大便臉。拍謝ㄋㄟ~希望已經回到台灣的你,每天都在享用大餐。(題外話。。。)
裝傻歸裝傻,還是速速在Old Faithful的旅客中心解決一頓。這之後,詹大仙的笑聲又再度出現。整個就是為了食物而存在的孩子。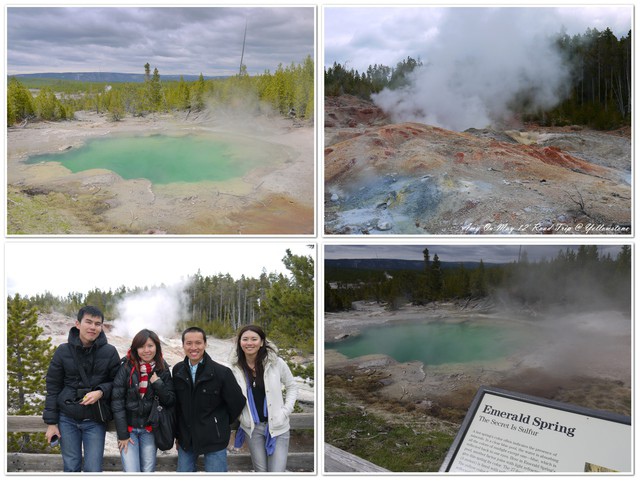 Old Faithful Geyser –資料來源:黃石公園官網
Old Faithful erupts more frequently than any of the otherbig geysers, although it is not the largest or most regular geyser in the park.Its average intervalbetween eruptions varies from 60 - 110 minutes. An eruption lasts 1 1/2 to 5minutes, expels 3,700 - 8,400 gallons (14,000 - 32,000 liters) of boilingwater, and reaches heights of 106 - 184 feet (30 - 55m). It was namedfor its consistent performance by members of the Washburn Expedition in 1870.Although its average interval has lengthened through the years (due toearthquakes and vandalism), Old Faithful is still as spectacular andpredictable as it was a century ago. The largest active geyser in the world isSteamboat Geyser in the Norris Geyser Basin.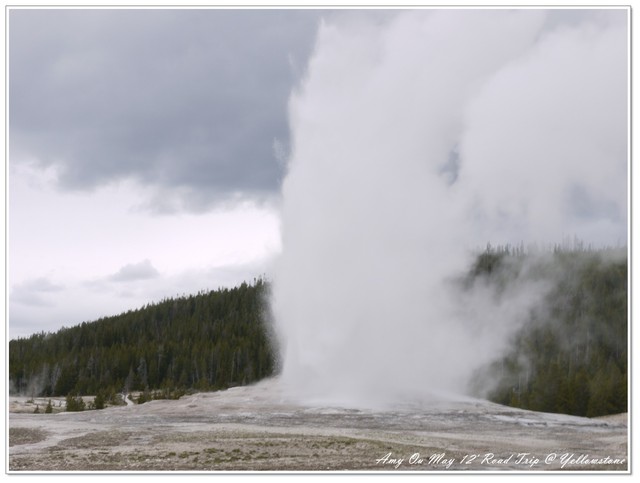 Old Faithful Inn – 資料來源:黃石公園官網
Builtduring the winter of 1903-04, the Old Faithful Inn was designed byRobert C. Reamer, who wanted the asymmetry of the building to reflect the chaosof nature. The OldFaithful Inn is one of the few remaining log hotels in the United States.It is a masterpiece of rustic architecture in its stylized design and finecraftsmanship. Its influence on American architecture, particularly parkarchitecture, was immeasurable. The building is a rustic log and wood-framestructure with gigantic proportions: nearly 700 feet in length and sevenstories high.
Thelobby of the hotel features a 65-foot ceiling, a massive rhyolite fireplace,and railings made of contorted lodgepole pine. Its incredibly largespace can be experienced on many different levels and from many differentvantage points. The visitor can stand in the middle of the lobby and look up atthe exposed structure, or climb up a gnarled log staircase to one of thebalconies and look up, down, or across. Wings were added to the hotel in 1915and 1927, and today there are 327 rooms available to guests in this NationalHistoric Landmark.
間歇泉旁邊有個老飯店叫做Old Faithful Inn,是這裡有名的老建築。去的時候剛剛好遇到大火爐在整修。。。悶。。。Lobby有個鐘會報時下一次間歇泉噴發時間。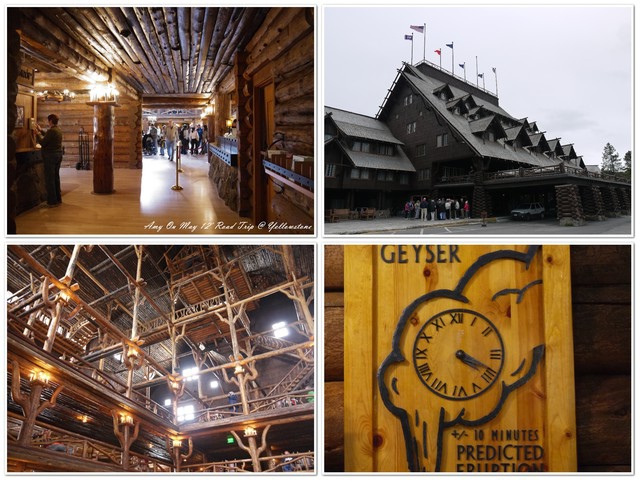 The Upper GeyserBasin – 資料來源:黃石公園官網
Yellowstone,as a whole, possesses close to 60 percent of the world's geysers. (超多!!)The Upper Geyser Basin is home to the largest numbers of this fragile featurefound in the park. Within one square mile there are at least 150 of thesehydrothermal wonders. Of this remarkable number, only five major geysers arepredicted regularly by the naturalist staff. They are Castle, Grand, Daisy,Riverside, and Old Faithful. There are many frequent, smaller geysers to beseen and marveled at in this basin as well as numerous hot springs and onerecently developed mudpot (if it lasts).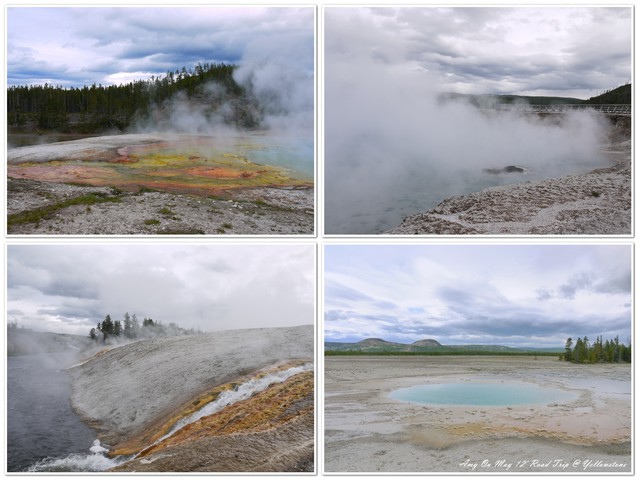 原本以為會在這邊看到很多人照片裡的彩色湖,沒想到湖大到根本拍不起來!心情頓時非常沮喪,想說。。。該不會只能去拍明信片了吧。話說,這個彩色湖之所以為彩色,是因為地熱的關係,湖的每一層都有不同的溫度,所以有不同的細菌。這些不同的細菌,就是那些一層一層不同顏色的成因。真難想像細菌也可以這麼美。但是這裡的溫泉流進河裡的交界點事七彩的!好美唷~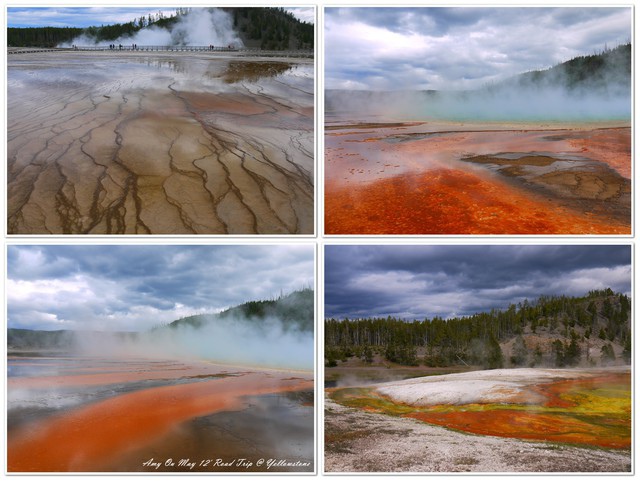 Midway Geyser Basin –資料來源:黃石公園官網
This geyser basin, though small in size compared to itscompanions along the FireholeRiver, holds large wonders for the visitor. Excelsior Geyser reveals agaping crater 200 x 300 feet with a constant discharge of more than 4,000gallons of water per minute into the Firehole River. Also in this surprisingbasin is Yellowstone's largest hot springs, Grand Prismatic Spring. Thisfeature is 370 feet in diameter and more than 121 feet in depth.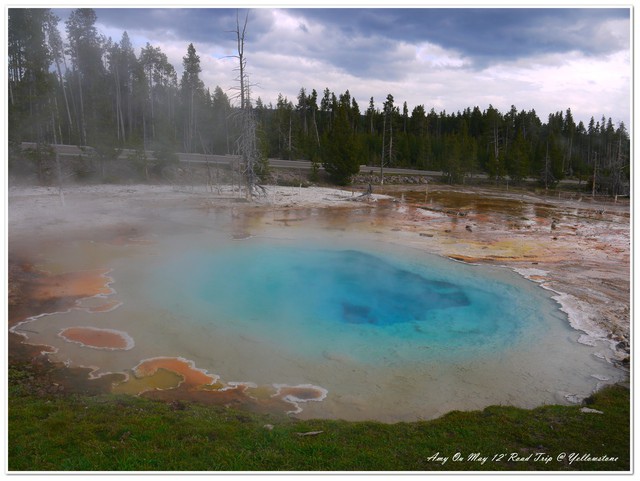 幸好沒有因為一時的沮喪就離開,原來小一點的彩色湖(池??)在這裡啦!!!心情過於興奮,加上滿天的煙霧,詹大仙突然有一種回到家鄉的親切感。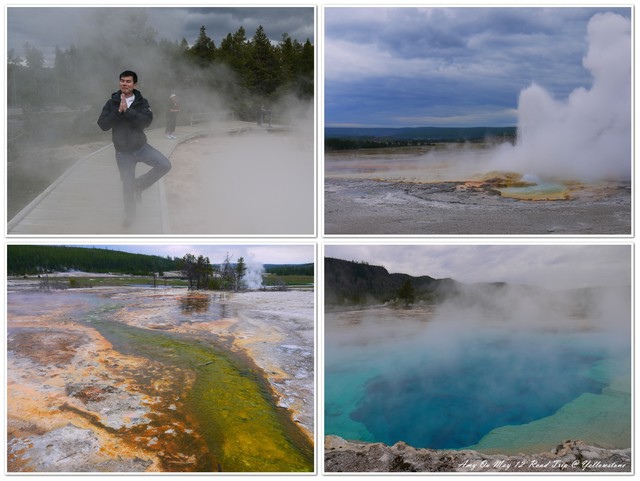 Lower Geyser Basin – 資料來源:黃石公園官網
This large area of hydrothermal activity can be viewed byfoot along the boardwalk trail at Fountain Paint Pots and by car along thethree mile Firehole Lake Drive. The latter is a one-way drive where you willfind the sixth geyser predicted by the Old Faithful staff: Great Fountain. Itssplashy eruptions send jets of diamond droplets bursting 100-200 feet in theair, while waves of water cascade down the raised terraces. Patience is avirtue with this twice-a-day geyser, as the predictions allow a 2 hour +/-window of opportunity.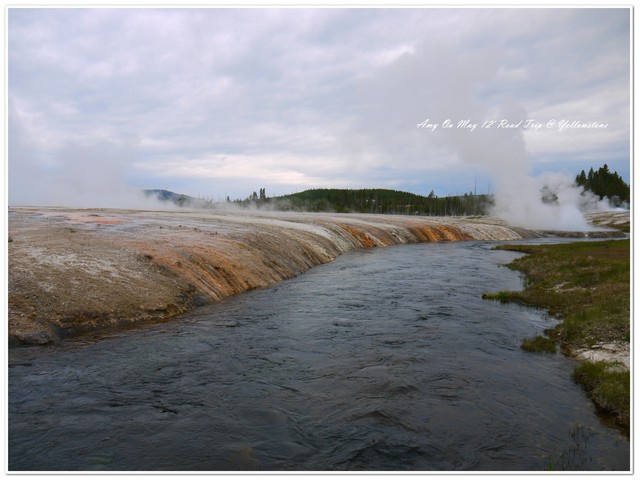 Fountain Flats Drive departs the Grand Loop Road just southof the Nez Perce picnic area and follows along the Firehole River to atrailhead 1.5 miles distant. From there, the Fountain Freight Roadhiking/biking trail continues along the old roadbed giving hikers access to theSentinel Meadows Trail and the Fairy Falls Trail. Also along this path is theonly handicapped-accessible backcountry site in the Old Faithful district atGoose Lake.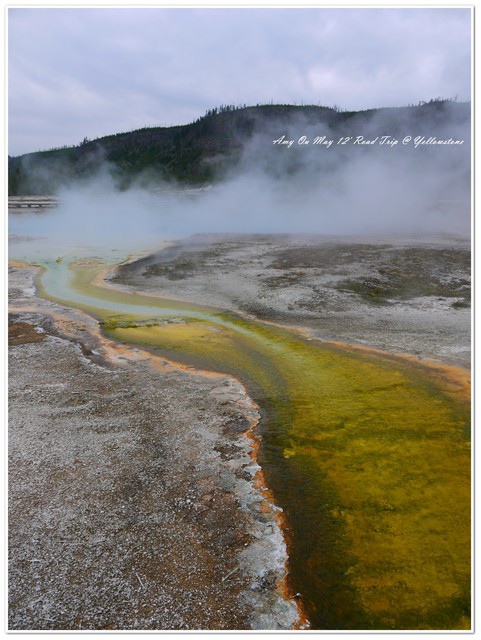 最後的Lower Geyser Basin也很多小湖。大家可以在這邊玩猜湖名的遊戲!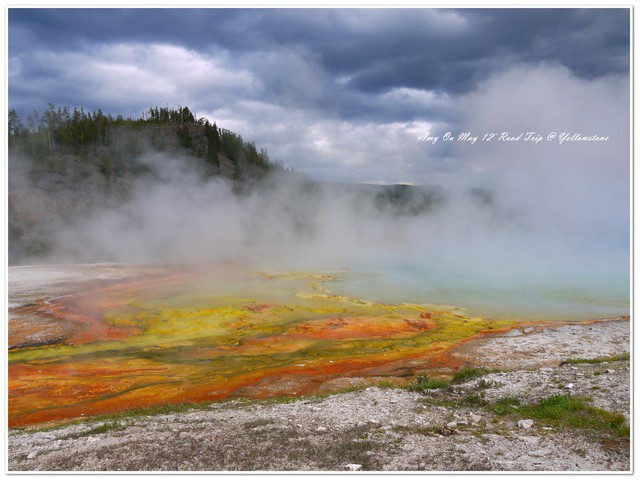 依依不捨的要離開黃石公園惹~離開前順路到之前提過的湖邊餐廳*GrantVillage Lakehouse Restaurant填飽肚子。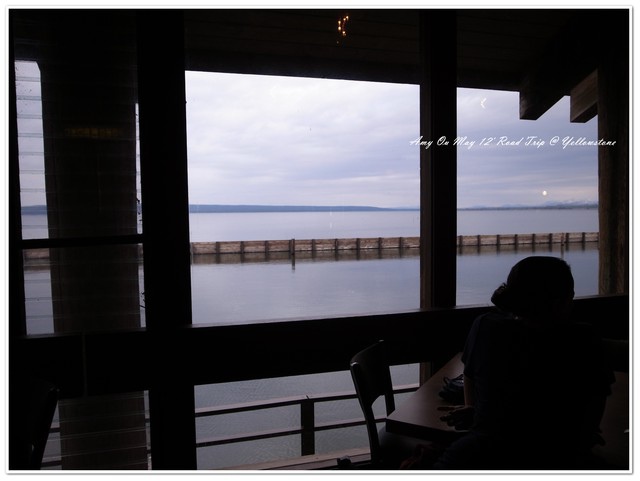 本晚要入住位於往南走的一個牛仔小鎮Jackson Hole的一間旅館。中間會穿過GrandTeton National Park(大堤頓)國家公園。本來只打算象徵性的路過一下,沒想到經過了一個美到讓人窒息的湖邊。。。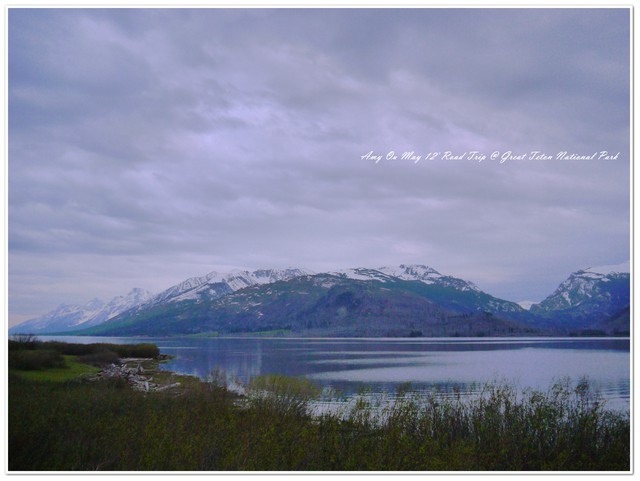 決定隔天早起,再重遊大堤頓。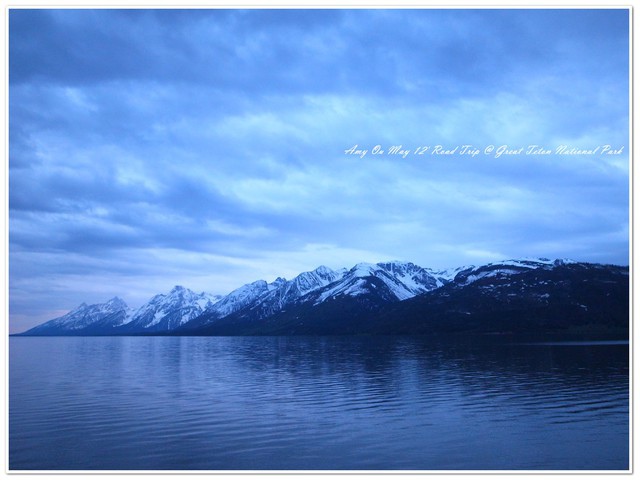 *Grant Village Lakehouse Restaurant
http://www.yellowstonenationalparklodges.com/lake-house-restaurant-7968.html